賀!教練所所長詹貴惠教授研究室之研究成果2篇榮獲教育部體育署107年度運動科學研究及發展優等及甲等獎勵
賀!教練所所長詹貴惠教授研究室之研究成果有2篇分別榮獲教育部體育署107年度運動科學研究及發展優等及甲等獎勵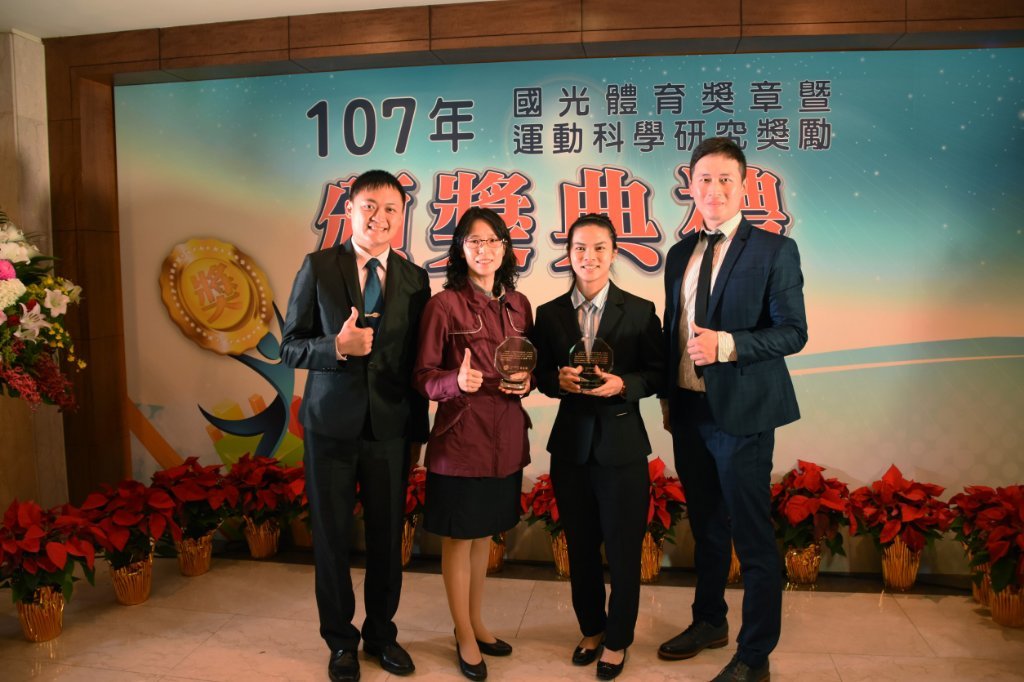 優等:『Effects of high-intensity interval training on canoeing performance』 (Yang, M.T., Lee, M.M., Hsu, S.C., Chan, K.H., 2017)按我查看
Abstract
The purpose of this study was to compare the effects of high-intensity interval training (HIIT) and moderate-intensity continuous training (MICT) utilizing a canoeing ergometer on endurance determinants, as well as aerobic and anaerobic performances among flat-water canoeists. Fourteen well-trained male flat-water canoeists were divided into an HIIT group or an MICT group. All subjects performed a continuous graded exercise test (GXT) and three fixed-distance (200, 500, and 1000 m) performance tests on a canoeing ergometer to determine canoeing economy, peak oxygen uptake (VO2peak), and power at VO2peak, and to calculate the critical velocity (CV) and anaerobic work capacity before and after the training programmes. The training programme involved training on a canoeing ergometer three times per week for four weeks. HIIT consisted of seven 2 min canoeing bouts at an intensity of 90% VO2peak separated by 1 min of rest. The MICT group was trained at an intensity of 65% VO2peak continuously for 20 min. After four weeks of training, performance in the 200-m distance test and the power at VO2peak significantly improved in the HIIT group; performance in the 500 m and 1000 m distances and CV significantly improved in the MICT group. However, all variables were not significantly different between groups. It is concluded that HIIT for four weeks is an effective training strategy for improvement of short-distance canoeing performance. In contrast, MICT improves middle-distance canoeing performances and aerobic capacity.
甲等:『Effects of creatine supplementation on muscle strength and optimal individual post-activation potentiation time of the upper body in canoeists』(Wang, C.C., Lin, S.C., Hsu, S.C., Yang, M.T., Chan, K.H., 2017)按我查看
Abstract
Creatine supplementation reduces the impact of muscle fatigue on post-activation potentiation (PAP) of the lower body, but its effects on the upper body remain unknown. This study examined the effects of creatine supplementation on muscle strength, explosive power, and optimalindividual PAP time of the upper body during a set of complex training bouts in canoeists. Seventeen male high school canoeists performed a bench row for one repetition at maximum strength and conducted complex training bouts to determine the optimal individual timing of PAP and distance of overhead medicine ball throw before and after the supplementation. Subjects were assigned to a creatine or placebo group, and later consumed 20 g of creatine or carboxymethyl cellulose per day for six days. After supplementation, the maximal strength in the creatine group significantly increased (p < 0.05). The optimal individual PAP time in the creatine group was significantly earlier than the pre-supplementation times (p < 0.05). There was no significant change in explosive power for either group. Our findings support the notion that creatine supplementation increases maximal strength and shortens the optimal individual PAP time of the upper body in high school athletes, but has no effect on explosive power. Moreover, it was found that the recovery time between a bench row and an overhead medicine ball throw in a complex training bout is an individual phenomenon.